5 Little Monkeys
5 LITTLE MONKEYS - Laminated props (basic)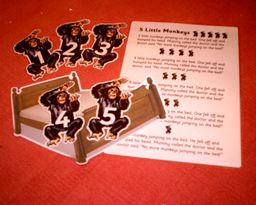 Included in the set is an A4 sized plastic wallet, song words using Sassoon Infant font, a bed and 5 monkeys which are labeled 1-5.
(Please take a look at the soft toy version of this set)
£7.00
Bargain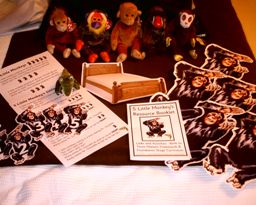 £15.00
5 LITTLE MONKEYS & SOFT TOY MONKEYS (bonanza)
5 Soft toy monkeys and the Monkey song prop set
(same as above number 1)
Great for young children, multi-sensory and helps the children stay focused on the song!
£20.00
ALL SONG PROPS ARE AVAILABLE WITH EITHER VELCRO OR MAGNETS FOR AN ADDITIONAL COST - Please email pipotter@ayupmeduck.net for details - Thanks!
Any requests for number song props are welcome.
---